Guests
Guest of Honour - Venus Terzo
Arashi Daiko
Anime News Network (Christopher MacDonald)
Boxed Rice Production
Darkain Art Studios (Les Major, Mandy St.Jean)
Doki Doki Productions (Tim Park)
Dragon Mango (Mark Sprague)
Irulanne
Kaijugal (Dawn McKechnie (Kaijugal))
Lucien Soulban
Miss Dynamite (Sébastien Fréchette (Sirkowski))
Protoculture Addicts (Claude J. Pelletier)
Sukoshi Yoshi
The 404s
VG Cats (Scott Ramsoomair)

---
Guest of Honour
Venus Terzo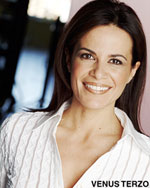 A Montreal native, Venus Terzo graduated with a professional actor's degree from Dawson College. Venus speaks four languages: English, French, Italian and Greek.
Well known to anime fans as the voice of the female Ranma Saotome in the popular Ranma ½ anime series, Venus has voiced numerous anime and cartoon characters that include Princess Millerna in Vision of Escaflowne, Celine Jules in Star Ocean EX, Jean Grey in X-Men: Evolutions, and Black Arachnia in Transformers: Beast Wars. Venus is currently the voice of the ZAFT Captain Talia Gladys in the mega-hit anime series Gundam SEED DESTINY.
In addition to her lengthy voice-over credit list, Venus has appeared in numerous television series and movies. She was a series regular on CBC.s crime drama Da Vinci.s Inquest where for seven seasons she played the role of Detective Angela Kosmo. Venus has also appeared on Whistler, Stargate SG-1, Andromeda, Highlander, Lonesome Dove, 21 Jump Street, Circle of Friends (shot in Montreal), Masters of Horror: The Washingtonians and Crossroads: A Story of Forgiveness.
For her work on Da Vinci's Inquest Venus was bestowed two Leo nominations. Venus won the Leo award for Best Female Actress in a Dramatic series (1999), and was nominated for a Gemini for Best Performance by an Actress in a Continuing Leading Dramatic Role in 2002.
---
Arashi Daiko

Taiko drumming is a traditional Japanese, Chinese and Korean art that has great importance in contemporary Japanese culture. For over 20 years Arashi Daiko has delighted audiences with taiko drum performances. Mikio and Kayo, Arashi Daiko members, will give a taiko drum performance at Otakuthon and teach audience members the basics of taiko drumming.
---
Christopher MacDonald
Anime News Network

Originally a network administrator, Chris's interest in anime lead to his involvment with Anime News Network. Eventually the small website turned into a very large website, and the hobby turned into a full time job. A fan of anime and manga since 1989, Chris is now one of North America's foremost experts on the anime industry and runs one of the largest anime media outlets, online or in print, in the world.
---
Boxed Rice Production

Boxed Rice Productions is a group situated in the Toronto area that participates in masquerade performances across Ontario. Their most frequent Toronto venues are Anime North in May and FanExpo in August. Members of BRP also appear in other stage performances and charity functions, so please give us a shout if you see us!

Now in its 5th year of performances and competing in the Masters' division, BRP is known for some of it's more (in)famous performances such as "It's Like That (Run DMC)" from Anime North 2003 and "10 Commandments of Anime Cons" from Anime North 2004.

A fun loving, easy going, cosplay group, BRP is honoured to have another opportunity as the pre-show act of Otakuthon 2007's Masquerade.
---
Les Major
Darkain Art Studios

Animator, programmer, comic artist and voice actor. Les has lead the way over the past six years from working with  Antarctic Press to producing independent animated episodes and novelizations of Darkain Arts titles. His latest work includes continuing work on the FantaSize series, and a paperback novel based on the beloved series "Pristine Tribe" which made it's public debut when it was announced during a voice acting contest at Anime North.
---
Mandy St.Jean
Darkain Art Studios

Voicing several characters in Darkain Arts short animations, and now playing the role of the lead villian in FantaSize, Mandy has provided lots of acting talent and inspiration for the Darkain Arts team.
---
Tim Park
Doki Doki Productions

Tim Park has produced a few dozen anime music videos under the name Doki Doki Productions, specialising in comedic works ranging from "Right Now Someone Is Reading This Title" to "Hellø Fairy".  As well as editing AMVs and parody videos, he is currently working on programming for the site AnimeMusicVideos.org.  Along with his co-conspirator Mike Blakely, he has put on a number of game shows at Anime North and AC Cubed, such as "Weakest Otaku" and "Otaku Feud".
---
Mark Sprague
Dragon Mango

Wikipedia credits him as having invented fandubs, which, although not technically true, is very flattering. His 1996 fandub of Sailor Moon S inspired a generation of amateur voice actors, or at least he likes to think so.

Nowadays, Mark is responsible for drawing the webcomic Dragon Mango, an epic (?) and possibly funny saga involving dragons, elves, goblins, and girls named after fruit. In the fantasy kingdom of Fafnir, which has turned it's firebreathing pest problem (they get attacked by a dragon at least once a week) into a major tourist attraction, a young woman named Mango tries to prove her worth as a dragonslayer, but it's difficult to do that when she has to deal with greedy goblins, invincible angry chickens, countless anime and videogame in-jokes, and a sinister conspiracy involving a kidnapped princess.

He's also involved in numerous side projects, including animations and video games.

See for yourself at http://www.dragon-mango.com!
---
Irulanne

Singing Jpop and anime songs since more than 12 years, Irulanne is well known over the internet for her distinctive and strong voice. Over the last few years, this young woman from Laval has been implicated into fandubbing, anime and science-fiction events and even travelled twice to Japan. For the second year, Irulanne is the leader and main singer of "Irulanne and Friends"; a group of amateurs singers that performs during the Otakuthon Jpop Concert. Her friends and team mates like to describe her as the "Red Ranger".

Irulanne is also behind the Otakuthon Idol and will coordinates the auditions and the finale.

For more informations : www.irulanne.com
---
Dawn McKechnie (Kaijugal)
Kaijugal

Award winning, Canadian born, cosplayer Kaijugal may be a familar face to con attendees as she has been involved in the Canadian costuming community and local fandom for over 20 years. She currently not only coordinates the Cosplay Events Department for Anime North, but is also the director of several masquerades including Hobbystar's FANEXPO masquerade, and G-FEST in Chicago. She can also be seen applying her skills as a masquerade judge at cons such as, Anime Next, Ad Astra, and Otakuthon. Always ready to do more to promote costuming, she is also currently serving as president of the Canadian chapter of the International Costumers Guild.

She is exceptionally happy to be returning to Otakuthon to share the joys of the hobby of costuming with her fellow fans.
---
Lucien Soulban

Lucien Soulban is a writer continually amazed by life's blessings. He's contributed to over 90 role-playing books as writer and editor for companies like White Wolf, Pinnacle Entertainment and Green Ronin. He's helped develop game-worlds as varied as Orpheus, Kindred of the East, Providence and Silver Age Sentinels. He's written three novels (Vampire: Blood In-Blood Out, Necromunda: Fleshworks and Dragonlance: The Alien Sea), contributed to eight anthologies (including Horrors Beyond II and The Book of Final Flesh) and written the scripts for various videogames (including Dawn of War, Chicken Little, Kim Possible 3, Monster House and Rainbow Six: Vegas).
---
Sébastien Fréchette (Sirkowski)
Miss Dynamite

Sébastien Fréchette, alias Sirkowski, was born in Montreal in 1975. After studies in graphic design and a boring part-time job as an animation colorist, he became a freelance illustrator for ad agencies and a regular artist on the "Starship Titus" series. He is most known for the Miss Dynamite anime and manga, a character he created in 1990. Miss Dynamite "follows freelance terrorist Eva Sirkowski and her bisexual assassin associate Blackie Chin on their 'action packed, mostly weird' adventures".
---
Claude J. Pelletier
Protoculture Addicts

Claude J. Pelletier studied history, wanted to be a librarian, but ended up publishing a science-fiction fanzine named Samizdat (in French), several Quebec Science-Fiction anthologies (in French) and, finally, an anime and manga magazine. He founded Protoculture Addicts in fall 1987 as a Robotech fanzine, but it quickly evolved into the magazine it is now. In 2000, he published Anime: A Guide To Japanese Animation, which is a 300-page filmography of the first thirty years of the anime industry in Japan.
---
Sukoshi Yoshi

Sukoshi Yoshi performs with the stated goal of bringing the love of Japanese music to Montreal. Formed in October 2005, and the band did house parties at first but have since performed at various events, including Otakuthon 2006. They've changed members over the years, and today the band consists of two vocalists, Meiko and Khoa; a guitarist, Thany; a bassist, Thana; and a drummer, Nebu. Sukoshi Yoshi is proud to be performing at Otakuthon 2007, playing several anime hits and classics.
---
The 404s

Coming to Otakuthon for the first time, it's improvised comedy with an anime twist! "The 404s" have performed their hilarious, interactive, unrehearsed comedy show across Canada and the United States, creating sketches and scenes based on audience suggestions and direct participation. The 404s are very excited to bring their unique comedy stylings to Montreal - and remember, audience participation is mandatory!
---
Scott Ramsoomair
VG Cats

Scott Ramsoomair, the artist and writer behind the popular web series VG Cats. Born and raised in Canada... but we try not to hold that against him. He now calls Toronto his home and has been drawing the cartoon now for several years.

Influences include of course popular anime. Pulling from it often it lends a lot to the series. Inspired by the works of John Kricfalusi, he always maintains a strict American style to the cartoon as a base.

When Scott isn't playing video games, he can usually be found thinking about them. Such favorite games from Zelda to Metal Gear Solid lend motivation to the comic -- if only it was more than once a week. Lazy bastard. :)
---