Webcomic Artists
Sébastien Fréchette "Sirkowski"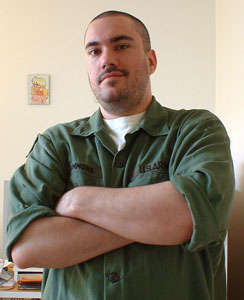 After studies in graphic design and a boring part-time job as an animation colorist, Sirkowski became a freelance illustrator, cartoonist and animator for ad agencies and a regular artist on Starship Titus. He is now working on Sister Wulfia Focka, for Slipshine.net. Sirkowski is most known for the Miss Dynamite anime and manga, created in 1990. Miss Dynamite "follows freelance terrorist Eva Sirkowski and her bisexual assassin associate Blackie Chin on their 'action packed, mostly weird' adventures."
Mark Sprague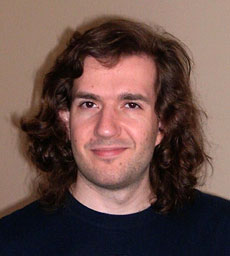 Mark Sprague is not actually Japanese; he just can't seem to stop drawing that way.
Semi-famous as a fandubber in the mid-90's, and writer and artist of the long-running webcomic Dragon Mango, he's still not entirely sure why he's a guest at a convention, but promises to do his best to be entertaining!
Mark's current projects include keeping Dragon Mango updated, various live action and animated shorts, and a strange combination between a webcomic and videogame entitled "Stella N3ra".
Check it all out at www.dragon-mango.com!
Gisèle Lagacé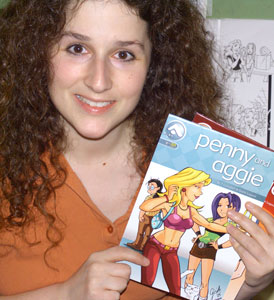 A francophone from New Brunswick, Gisèle Lagacé now lives in Ottawa and attempts to speak English. She created the popular webcomic Cool Cat Studio in 2000, which won her a 2001 Webcartoonist's Choice Award for Best Art and a 2002 Kim Yale Award for Best New Female Talent. She and scriptwriter T Campbell created the new webcomic Penny and Aggie in 2004. Featuring the rivalries of two teenage girls and their many friends, this series was an instant success and grows in readership every year. In 2007, she and Campbell relaunched Cool Cat Studio to end the series in July 2008. In May 2008, she and co-writer Dave Zero1 launched a new webcomic, Ménage à 3. Lagacé was a 2008 nominee for a Joe Shuster Award for Outstanding Canadian Webcomics Creator.
Gisèle Lagacé's websites:
http://www.pennyandaggie.com
http://www.menagea3.net
http://www.coolcatstudio.com

David Coacci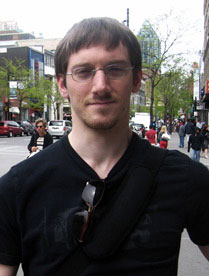 Born and raised in Montreal, and having a passion for anime and manga, David Coacci is honored to be invited to Otakuthon. He's been an avid webcomic enthusiast for many years, and has been drawing for much longer.
While studying art at the CEGEP of St-Laurent, 6 years ago, he began work on "Renaissance", a cyberpunk fantasy webcomic. He soon realized that the only part of art that he actually enjoyed was drawing and graphic design. So, he dropped out and enrolled in the International Academy of Design and Technology, where he was able to expand his artistic and design skills, thus improving his artwork.
Today, when not working on the comic, or at his job as a web designer, David spends his time playing video games or stopping pucks at the local hockey rink. Otakuthon 2008 will be his first convention and he is very excited to be attending.